— IP Surveillance Design — Overview —
IP Surveillance Design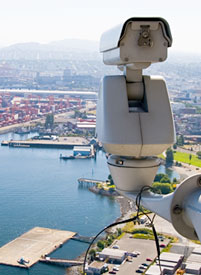 These days, video systems are no longer limited to recording and storing huge volumes of information passively (most of which is useless); they can actually
evaluate
a situation and
take action
accordingly.
For advanced recording and event management, video management software serves as the core of professional video surveillance systems —

From the software interface, operators can, for example, record video continuously, on schedule, on alarm and/or on motion detection or search for recorded events.

A video management software will allow you to, among other things,
centrally manage and configure
the network video products to your viewing, recording and security preferences.
With all these new capabilities, and the many methods available to manage video, it is key to consider your application needs and level of functionality. Once you have made an assessment of your needs, a number of factors should be taken into account to set up a system that takes advantage of the full potential of network video.
Network video solutions run on standard Ethernet networking, and support a number of advanced technologies, e.g. Power over Ethernet. Standard IT equipment such as switches, PC servers for video recording and storage, and network-attached storage — NAS, are used, so you can leverage your investments.
— IP Surveillance Design — What Can be Tailored —
What components can be tailored to your application?
Network Cameras / Video Encoders
A wide variety of network cameras and video encoders are available. Network cameras range from

fixed

cameras to

pan/tilt/zoom

and

dome

cameras, and may be designed for use

indoors

or

outdoors

.
Two different

video compression methods

(e.g. Motion JPEG and MPEG-4) delivered separately or simultaneously to optimize bandwidth and image quality.

Input/output ports

for connection to external devices such as sensors and alarms.
Video motion detection — sophisticated

alarm and event management

functions that can communicate with different devices and applications simultaneously, and can send separate video streams in different resolutions, at different frame rates and to different places
Comprehensive

security features

.
Network
There are many ways to design and secure a network for IP-Surveillance. Network can be as

small

or as

extensive

as your requirements, and it can be

wired, wireless

or a

combination of both

.
It is also easy to increase the

bandwidth capacity

of your network simply by adding switches/routers. And different technologies can be used to optimize bandwidth usage.
Furthermore, a wired network can deliver not only data, but also power, to indoor network cameras using

Power over Ethernet

technology. This simplifies installation and provides cost savings.
Hardware (PC Server and Storage)
The hardware requirements of an IP-Surveillance system are not complex. Simply use

standard components

found in the IT industry. Today's PC, with a Pentium processor and Windows operating system, is able to run a video management software, and record and store video from up to 25 cameras.
If the hard disk on the actual server running the recording application is not enough, there are solutions that enable you to

increase storage space

and achieve increased flexibility and recoverability.
As larger hard drives are produced at lower costs, it is becoming

less expensive

to store large amounts of video.
— IP Surveillance Design — Quick Checklist —
Setting up an IP-Surveillance system — Quick checklist
Define your surveillance needs
Draw a plan of your installation
Select points of interest to view (area of coverage)
Position each camera — define what you want to be able to capture with each camera
Consider environment — light conditions
Consider cabling to cameras
Position the recording server
Select network cameras and/or video encoder
Image quality requirements — resolution, compression and frame rate
Light sensitivity and lens selection (re: camera)
Outdoor / indoor, fixed / PTZ / dome camera
Consider needs such as Power over Ethernet (PoE), video motion detection, audio . . .
Housing, mounting and other accessories
Buy and try — buy one camera to test its quality
Select hardware components
Additional switches (PoE, wireless options)
Additional light sources
Power supplies and eventually UPS
Server for video management software
Hard drives (local disks, NAS, etc.)
Select video management software
Select a software package for your required functionality
Purchase licenses that fit the number of cameras
Specify image quality and frame rate requirements for each camera
IP address range for cameras and servers
Calculate hard disk usage
Configure your cameras and their recording settings
Configure video motion detection settings
Grant user access and authentications
Operations and maintenance
Check recorded events for all your cameras
Check motion detection settings again
Check hard disk free space and eventually adjust recording options